Our Young Ambassadors for gender equality (YA) were fortunate enough to be invited to the first edition of the Festival Penser et Agir Ensemble (PAE) ("Think and Act Together Festival") organised by the Fondation Apprentis d'Auteuil. More than 500 volunteers, partners, beneficiaries and employees of the Foundation gathered in le Mans to think and act together around the themes of youth.
Friday, after a first workshop to meet and lay the ground for thinking, people gathered were invited to share a meal while enjoying artistic performances of young people and the families welcomed by Apprentis d'Auteuil. We were asked to go on stage and present our action. We therefore presented a little scene on the gendered jobs which was very appreciated by the audience, especially the young people.
Saturday started slowly: breakfast and presentation of the planning. Then, we attended twelve workshops to reflect on the themes linked with the PAE (me vs. others, young people's involvement in a project, children's rights…). In the subgroups, the exchanges were lively. Thanks to the diversity of the people attending, each workshop was able to cross sights and produce diverse findings.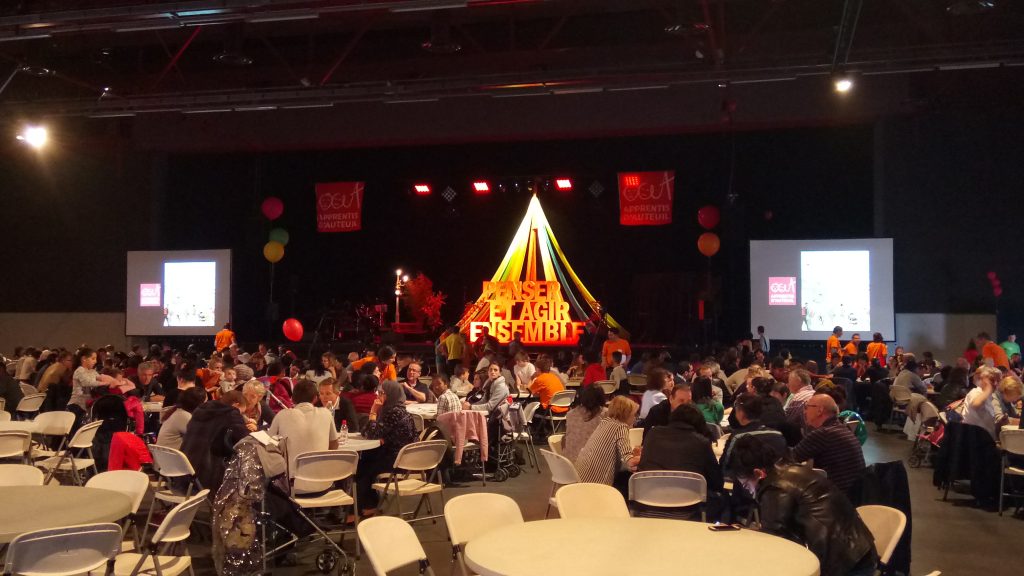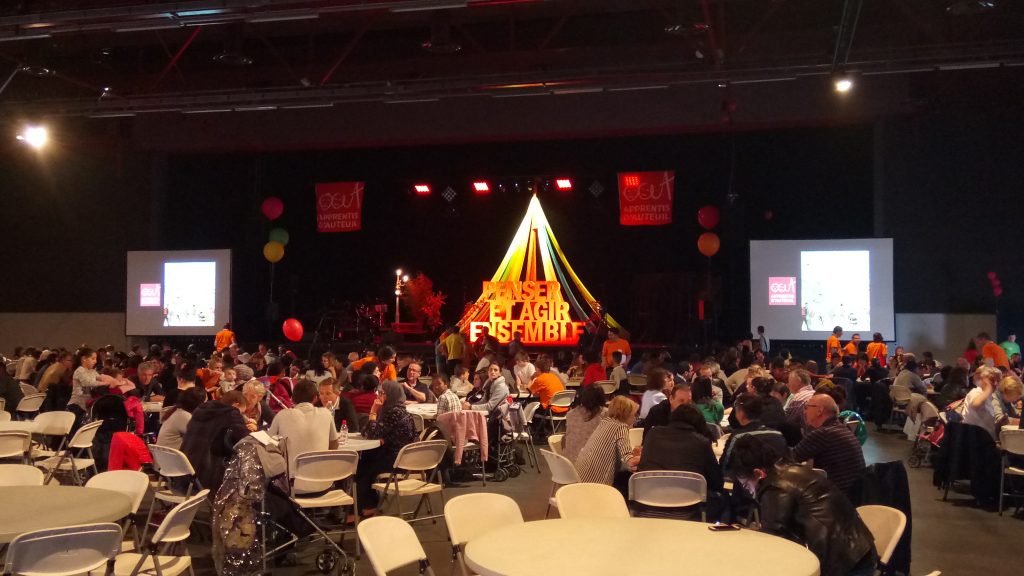 Late morning and lunch time were free times, with only two instructions: to go have lunch at the canteen and to wonder around the partner stands. We benefited from this showcase to make our actions known and gather contacts for our future projects (particularly our interventions in middle school).
The afternoon was very festive and joyful. The twelve workshops of the morning were able to present their findings in the form of small scenes, huge posters etc. A theatre play around the PAE and the dynamic which motivated the creation of the festival was presented. Full of humour and very playful, it had much success.
This time of common exchanges and thinking ended up in songs, with a cover of "Toi + Moi" of the singer Grégoire where the lyrics were modified to praise the PAE.
The journey home being long for some, a last good-bye snack under the sun was offered to participants. Each of us went back home with heads full of ideas and a will to share them with the greatest number.