×
---
WOMEN SOCIAL ENTREPRENEURS WHOM WE INTERVIEW IN FRANCE CONSIDER IT MORE DIFFICULT TO BE A WOMAN ENTREPRENEUR*
OF WOMEN ENTREPRENEURS SAYS THAT THE LACK OF SELF CONFIDENCE IS A BARRIER*
OF ALL ENTREPRENEURS IN FRANCE ARE WOMEN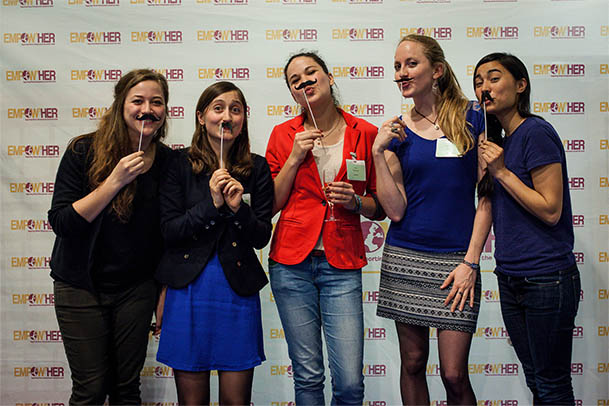 ENTREPRENEURSHIP AS A MEANS FOR SOCIAL CHANGE
In 2017 Empow'Her launched its first European project supporting women entrepreneurs in France. The Women'Act program is a leadership and personal development project that allows women to develop their potential as entrepreneurs.
Today women entrepreneurs in France face many barriers when it comes to accessing financial resources, joining networks and accepting themselves as strong and independent entrepreneurs. Through leadership trainings, mentoring and coaching activities, women gather the essential tools to thrive in the French entrepreneurship landscape. Learn more about this program here.
RAISING AWARENESS AMONG THE YOUTH
The young ambassador program is Empow'Her first awareness raising program in France. It fosters equality by encouraging the younger generations to become actors of change. More particularly, the program aims at:
Strengthen young people's leadership skills on gender equality issues and forge young role models;

Create communities of young gender equality advocates who are solution-oriented;

Raise-awareness on gender equality among youths with a unique peer-to-peer approach.
In total, 30 young people between the ages of 18 and 30 participate in our 12 month program. Through trainings and workshops, they learn how to raise awareness among their peers about gender equality issues.

Partners: Le Mouves, Total Foundation, Total, Solidarity AccorHotels, Starting Block, Coexister, Stop Harcèlement de Rue, Companieros, Entreprendre au Féminin Bretagne, Les Audacieuses, DRDFE (Direction régionale aux droits des femmes et à l'égalité) Project period: 2016 - ongoing Focus area: Building capacity and fostering equality *From our study "Women'Act" conducted on women and men social entrepreneurs in France 2016