We are delighted to announce that Assoya, our co-working space in the hart of Abidjan is open and running! In order to create the Hub, the entire Empow'Her family and many friends were mobilized. The Assoya team worked hard for many months and created tailor-maid furniture, decorations and cosy indoor and outdoor spaces. Eager to make Assoya a part of the local environment the team relied on local craftsmen and professionals for the construction of the Hub.
On the 18th of October 2017 the Assoya team was ready for the big launch event! Entrepreneurs, associations and company representatives from all over Abidjan gathered to discover the space. The night was filled with enthusiasm as entrepreneurs were able to "meet and greet" in a warm and welcoming environment.
The Assoya workspace is now fully operational. Every week, events, conferences, classes, workshops, screenings and much more are held in the Hub, bringing entrepreneurs together in a positive and motivating environment. Assoya also offers other kinds of services, such as rental of conference and event rooms, local mail delivery, high-speed Internet access and other necessary tools for developing entrepreneurial projects.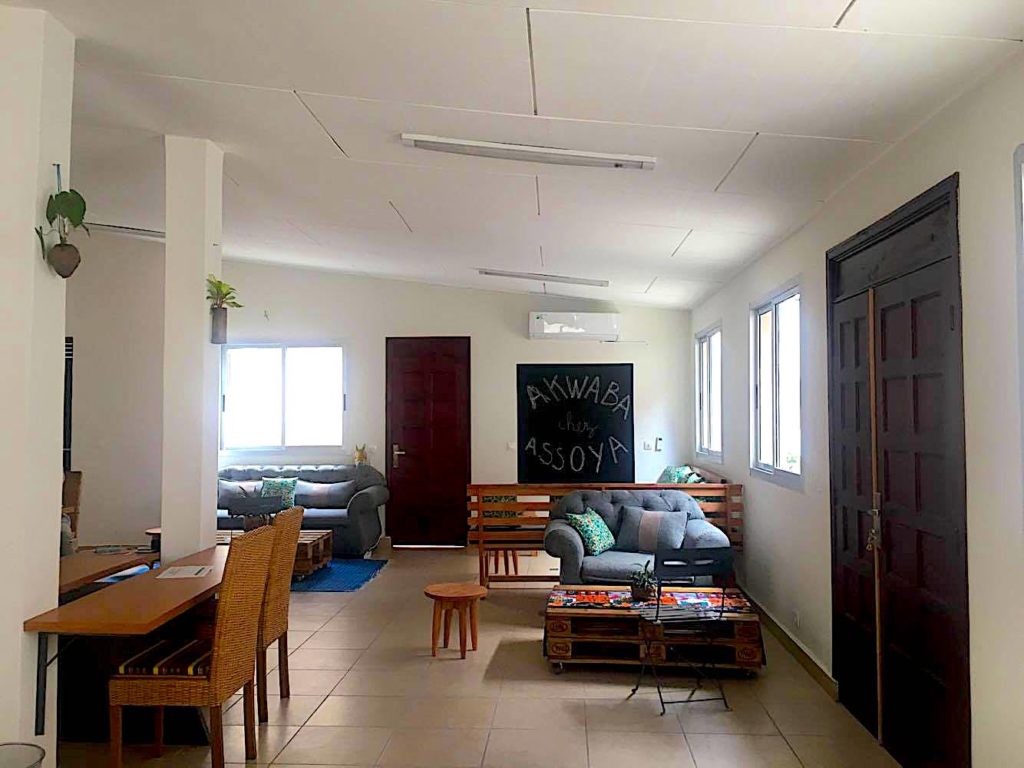 French Version
Un espace de co-working au coeur d'Abidjan
Nous sommes ravis d'annoncer qu'Assoya, notre espace de co-working au Coeur d'Abidjan est ouvert! Afin d'offrir un cadre de travail optimal aux coworkers, c'est toute l'équipe de Empow'Her ainsi que les sympathisant.e.s de l'association se sont mobilisé.e.s pendant plusieurs mois. Autant de moments de solidarité qui ont participé à la naissance d'Assoya, de son cadre de travail, mais aussi et surtout de son esprit entrepreneurial et convivial. De plus, l'une des volontés principales de l'entreprise sociale est de faire vivre son hub à travers et grâce à son environnement. C'est donc dans cette optique que plusieurs artisans du quartier ont été impliqués dans le projet et ont fabriqué un mobilier sur mesure.
Le 18 Octobre 2017 l'équipe Assoya était prête pour le lancement du Hub ! Les entrepreneur.e.s, entreprises et associations ont été accueilli.e.s dans l'espace de coworking, à Marcory, pour une riche soirée de découverte ! Au programme : la présentation de l'espace ainsi que sa programmation événementielle hebdomadaire, des témoignages d'entrepreneur.e.s inspirant.e.s et innovant.e.s et, pour finir, un moment convivial et musical organisé autour d'un buffet, concoctés par des maquis locaux. C'était l'occasion parfaite pour découvrir l'espace et rencontrer la communauté Assoya !
L'espace Assoya est désormais fonctionnel et les premier.e.s coworker.euse.s prennent leurs habitudes dans leur nouveau bureau. La communauté entrepreneuriale Abidjanaise à l'occasion de se retrouver chez Assoya et de participer à différents types de rencontres : conférences, cours, ateliers, petits déjeuner, projections, et bien d'autres !
Et ce n'est pas tout ! En plus de cette programmation événementielle hebdomadaire variée, Assoya propose différents services à ses professionnel.le.s : location d'espaces de travail connectés et polyvalents, de salle de réunion ou d'espace événementiel, accès à internet haut débit, livraison de repas locaux, etc.
Les travailleur.se.s d'Abidjan ont désormais accès à un cadre idéal pour faire prospérer leur projet à moindre coût, soyez-en certain.e !